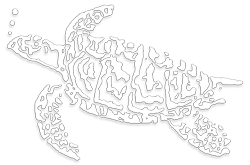 Big Cozumel dive boat for 12 or fewer divers. Bathroom on board.
50-75 minute dives - if you have the air, they have the time.
Fresh lunch with fruit, veggies, sandwiches, chips, cookies, etc. for the best experience of Cozumel Dive Resorts.
Big cabin for shade and sun deck for sun lovers. Small groups by ability. Usually about 8 divers on the boat.
Knowledgeable and trained Cozumel Scuba Diving masters and staff.
Know how to avoid the crowds underwater to see the most of Cozumel reefs.
If you are a beginner or need that extra help, you can dive with your own private divemaster or they provide one.
Leave the dock at 9AM...no early morning wake up in the dark. Back around 3:30PM. 2 long dives.
This is Joel's pick as the best operator on the island. Email Simone at simone_rossini@hotmail.com to book a trip.
He can reccommend a Cozumel Dive Resort.
Get all the Cozumel reef maps and read about all of the Cozumel reefs in:
Cozumel reef guide for divers and snorkelers.