Images from Colombia reef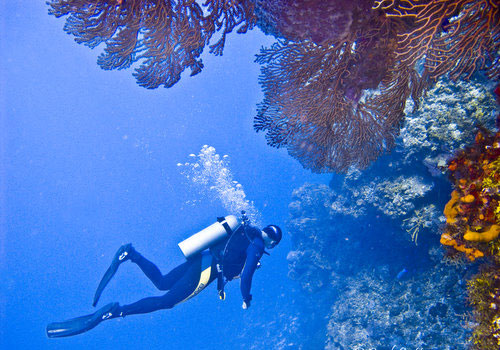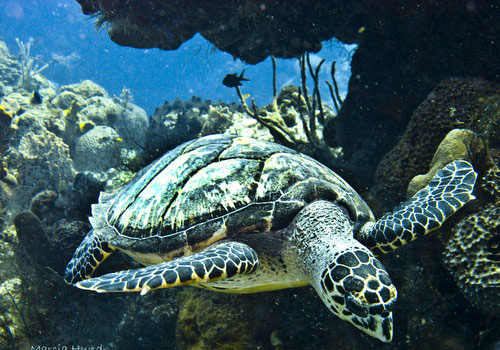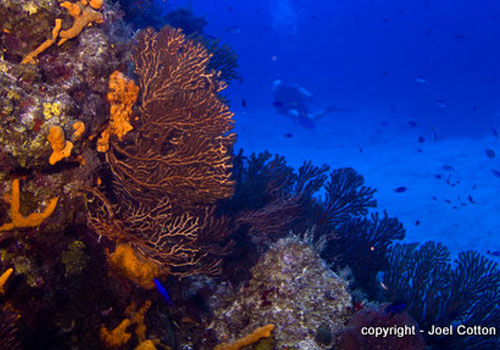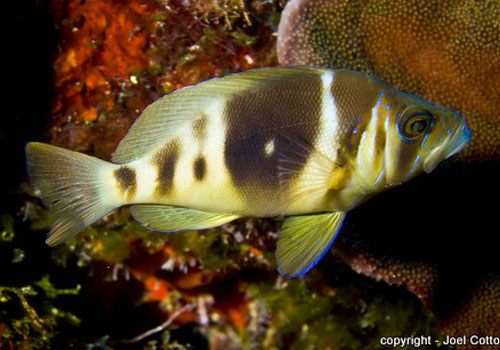 Depth 50'-90'
Experience level. Intermediate. You can go as deep as you want and make your Caribbean Dive Vacation an advanced dive with this. The currents are usually moderate.
Sometimes called Colombia Regular, this Cozumel Scuba Diving site lies between Colombia Deep and Colombia Shallows, just look out for our Cozumel Reef Map. Divers can go through multiple swim through or swim next to high walls. The current is not too bad in between the formations. This is a nice dive for coral formations and for seeing big animals and colorful little creatures. Just check out our Reefs of Cozumel fish chart. You get a little of everything on this dive. You can choose nice deep swim through, wall diving, and at the top of the reef, you see healthy coral and sponges and plenty of fish.
With Cozumel Colombia reef you can hardly miss seeing a few turtles here. They are very tolerant of divers.You might spot a Spotted Eagle Ray cruising by in the sandy areas or off the wall. Look for an octopus in the cracks of the wall. In 2012 two small reef sharks have been spotted. On any reef in Cozumel you can see any fish or animal at a given time. Below is a general guide.
| | | | |
| --- | --- | --- | --- |
| | common | occasional | rare |
| Damselfish | x | | |
| Barracuda | | x | |
| Grouper/Coney | x | | |
| Creole Wrasse | x | | |
| Trumpetfish | | | x |
| Bar Jacks | | x | |
| Hamlets | | | x |
| Hawkfish | | x | |
| Turtles | x | | |
| Nurse Sharks | | x | |
| Eagle Rays | | x | |
| black groupers | | x | |
| Octopus | | | x |
| green Morays | | | x |