Images from Colombia Deep Reef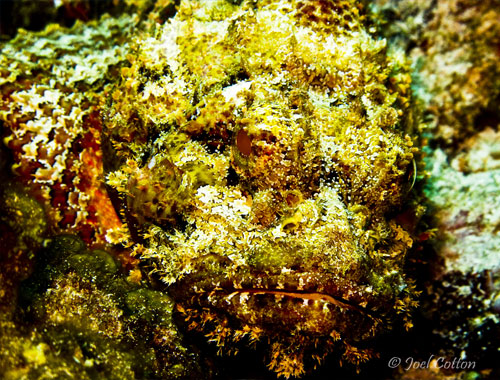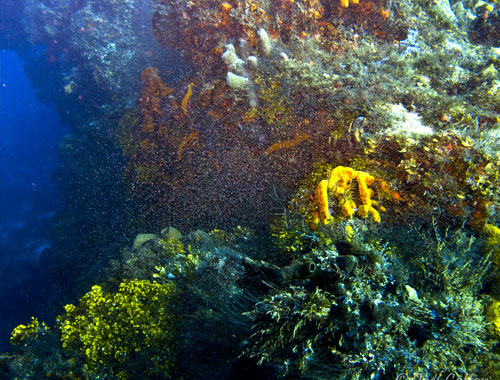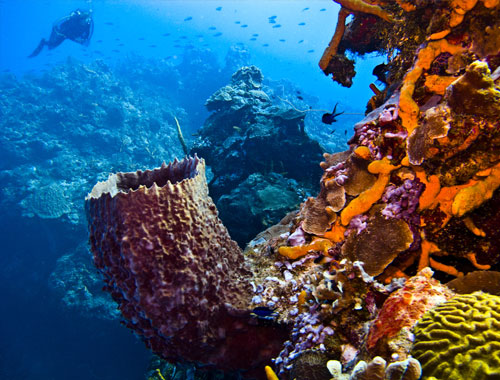 Depth 50'-90'
Experience level. Intermediate to Advanced. Current is sometimes unpredictable.
This is a beautiful wall dive. The coral formations are extremely healthy. You will see towers of coral built on the skeletons of ancient coral that has built up over millions of years. Giant Barrel Sponges, as well as Deepwater Fans and Black Coral form a nice backdrop for photography.
There tend to be more fish and animals here than on Palancar. If you are lucky, you might spot an eagle ray cruising the sand or the depths. You'll see some Scrawled Filefish, Queen Angelfish, and lots of schools of blue Creole Wrasse. You can hardly miss seeing a few turtles here. They are very tolerant of divers
On any reef in Cozumel you can see any fish or animal at a given time. Below is a general guide.
| | | | |
| --- | --- | --- | --- |
| | common | occasional | rare |
| Damselfish | | x | |
| Barracuda | | x | |
| Grouper/Coney | | x | |
| Creole Wrasse | | x | |
| Trumpetfish | | | x |
| Reef Sharks | | x | x |
| Bar Jacks | | x | |
| Hamlets/Hawkfish | | x | |
| Parrotfish | | | x |
| Turtles | x | | |
| Nurse Sharks | | | x |
| Spotted Eagle Rays | | x | |
| Black Groupers | | | x |
| Octopus | | | x |
| Green Morays | | | x |