Images from Maracaibo reef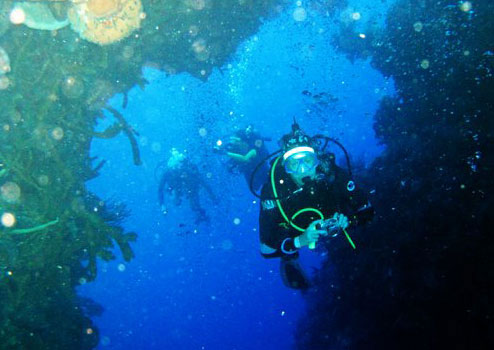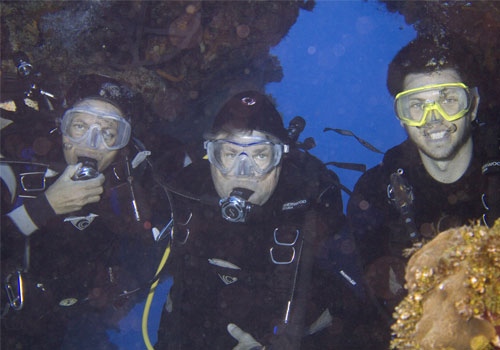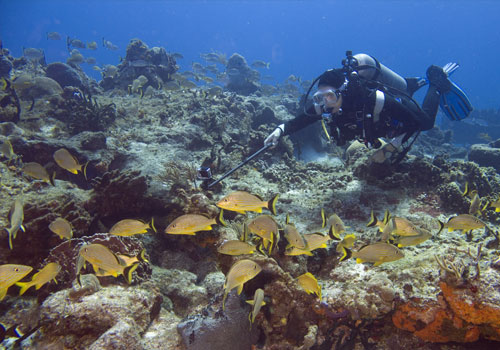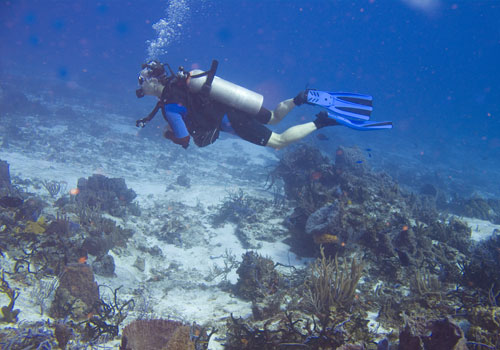 Depth 70'-150' - Generally done by going through the arch which is at 115'.
Experience level. Advanced. Current is sometimes unpredictable. Swells are usually large. Danger of being lost at sea.
Maracaibo is an extremely impressive wall dive. This is the southernmost reef, very close to the Punta Celerain Lighthouse. There are usually large ocean swells when entering the water. The edge of the wall is about 90' down....descend slowly and keep your bearings. Once to the edge, look over, and you can see a sheer cliff overhand that plummets to the deep blue. Some divemasters will continue on down, as there are some beautiful formations at about 150'. However, most divemasters will take you along the edge of the wall. As you approach the arch, you will see a deep fissure that cuts across the lip of the wall. You will enter this fissure and descend about 30' and come out on the face of the wall and swim north. Looking at the face of the wall you will see one of the most dramatic formations in the area...a large perfectly shaped arch that is about 30' across. You will enter the arch from the bottom and swim up through it, following the fissure that created the arch.Most divemasters will then take you towards the shore and you will come to the Chun-Chacaab reef.
Look for Spotted Eagle Rays, Reef Sharks, Nurse Sharks, and lots of turtles. On any reef in Cozumel you can see any fish or animal at a given time. Below is a general guide.
| | | | |
| --- | --- | --- | --- |
| | common | occasional | rare |
| Damselfish | | x | |
| Barracuda | | x | |
| Grouper/Coney | | x | |
| Creole Wrasse | | x | |
| Grunts and Snapper | | x | |
| Reef Sharks | | x | |
| Bar Jacks | | x | |
| Hamlets/Hawkfish | | x | |
| Parrotfish | | | x |
| Turtles | x | | |
| Nurse Sharks | | | x |
| Spotted Eagle Rays | | x | |
| Black Groupers | | | x |
| Octopus | | | x |
| Green Morays | | | x |